In 1996, Terri Gross invited Elizabeth McAlister to be a guest on Fresh Air to discuss "Rhythms of Rapture," the album of Haitian religious music that McAlister compiled for Smithsonian Folkways. They talked about life in Haiti in 1993 during the coup d'etat against Jean-Bertrand Aristide, about Vodou music, and about getting to know a culture through its music.
NPR World Café
"Haitian Music and the Music of New Orleans"
Afropop Worldwide
"Liza McAlister video on music and the Haiti earthquake"
NPR Throughline: Zombies 
NPR All Things Considered
"Voodoo Brings Solace to Grieving Haitians"
Interfaith Radio
"Understanding the Haiti Earthquake:  A Crisis of Faith and Meaning"
The Takeaway/WNYC Radio
"Haiti's Musical Traditions, Past and Present"
Symposium Podcast: Considering Syncretic Practices, Beliefs, and Religions in the Caribbean

This moderated panel discussion took place at the Museum on October 27, 2007. Scholars and artists included Elizabeth McAlister, John Amira, and Marta Vega discussing the ways belief functions in the daily life of Caribbean peoples within the islands and in New York.
Music and the Story of Haiti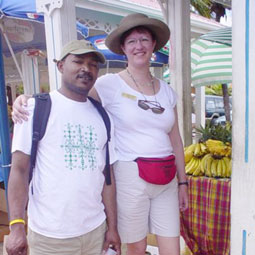 From Vodou to Compas to Racine to Rara and Beyond: Haiti became the first black-ruled republic in the Americas in 1804, and music has mirrored, and at times shaped, the twists and turns of Haiti's politics and culture ever since. A primary source of Haitian culture is Dahomey, the birthplace of vodou–the most commonly held world view among Haitian people today. We explore how each of Haiti's rulers has championed his own preferred music. The Duvalier dictators favored compas dance music, and suppressed the most African-identified cultural expressions. When Baby Doc was run out of the country in 1986, African-derived racine, or roots, music exploded. Elizabeth McAlister, professor of religion at Wesleyan University, and community scholar  Holly Nicolas, interweave music and history to tell a dynamic, and at times heart-breaking story. Included in the mix we'll hear the sweet sound of troubadour balladeers, as well as the exuberant tones of rara bands, the call and response of a capela kombit songs of work parties, impassioned choral music of evangelical churches, and the sophisticated, improvisational rhythms used in vodou rituals.
An episode of Afropop Worldwide
Produced by public radio's Afropop Worldwide and Elizabeth McAlister. To see a transcript of an interview with Elizabeth McAlister, Click Here.
Abbreviated version (6 minutes): 6-minute   Complete program (1 hour): 1-hour
If the embedded players do not work, try clicking these text links for the 6-minute or 1-hour versions.